If you are interested in licensing any of the following productions, please contact Lovewell's Artistic Director, Carrie Gilchrist, at carrie@lovewell.org. They all come complete with the following digital material: script, character break down, music tracks for rehearsal and performance, graphic design files and vocal lead sheets (some scores are available depending on the show). The turn around time to receive this digital material is very fast (upon completion of a simple licensing contract and payment) and we are willing to work with you to make your production happen.
______________________
LAYERS OF LEO: Mona Lisa's Musical Layers of Leo is a rollicking exploration of the life and work of the legendary renaissance man, Leonardo Da Vinci. Da Vinci comes to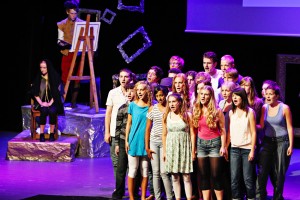 life through the eyes of Mona Lisa as we follow her own mysterious transformation. An international household name 500 years after his death, discover the man behind the easel in this rock musical. Viva Da Vinci!
Listen to songs from Layers of Leo HERE on Soundcloud
Minimum size of cast: 18
Maximum size of cast: 60+
Male: 10
Female: 8
Length: Full-length Musical In Two Acts
______________________
Roots of Red: The Musical Before the Hood Roots of Red tells the previously unknown tale of Little Red Riding Hood before she ever went over the river and through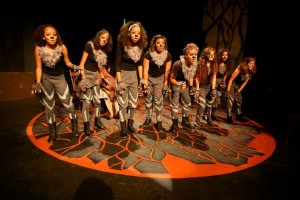 the woods to Granny's house. From two generations of family scandal to a pack of mysterious and powerful wolves, this is the fairytale you love as you've never seen it before.
Minimum size of cast: 20
Male: 9
Female: 11
Length: One act musical (45 minutes in length)
Watch the full version, 2 act version, of Roots of Red HERE on Lovewell's Vimeo channel. ______________________
THE WOMEN OF WHITECHAPEL: A musical in the shadows In London's impoverished district of Whitechapel in 1888, the murder of a prostitute was lucky to receive any media coverage at all. But when a methodical killer with surgical precision and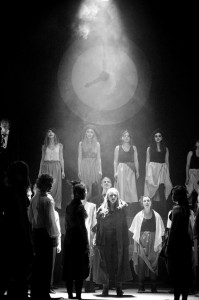 a penchant for taunting investigators strikes the women of East End, a new breed of fear is born. The city of London has created a monster- Jack the Ripper. The Women of Whitechapel is a thrilling race against the clock in the great European pop/rock musical tradition of The Phantom of the Opera and Les Miserables. It is a surprising and thought provoking take on history's most infamous murder mystery.
Listen to songs from The Women of Whitechapel HERE on Soundcloud.
Minimum size of cast: 28
Maximum size of cast: 60+
Male: 11
Female: 13
Male or Female: 4
Length: Full-length Musical In Two Acts
______________________
THE ALTERNATE: The Musical Tale of Nikola Tesla At the turn of the century, two inventors battle to become the king of the electric age: one, the legendary Thomas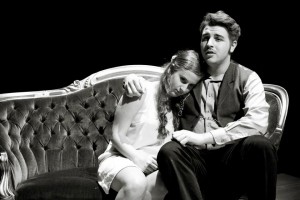 Edison, the other, the largely forgotten Nikola Tesla. The Alternate tells the fascinating story of an immigrant with a brilliant and unusual mind, and his big dreams of perfecting the energy that powers our world. Set against the backdrop of the World's Fair of 1893, The Alternate details the rise and fall of a brilliant man who sacrificed everything to change our world and illuminates the legacy he left behind with an electrifying score.
Minimum size of cast: 28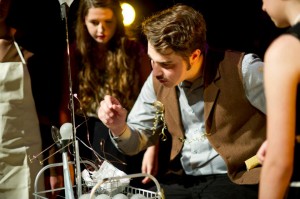 Maximum size of cast: 60+
Male: 10
Female: 12
Male or Female: 6
Length: Full-length Musical In Two Acts
______________________

THE WEIGHT OF WORDS: A Musical To Stop Bullying The Weight of Words holds a magnifying glass to the topic of bullying and its effects within a home, a school, a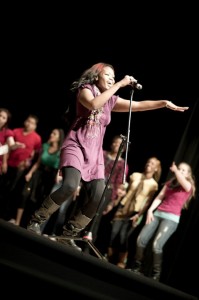 community, the United States and in the world. Zooming in on the the issues from every angle: those who are bullied, the bullies themselves, bystanders, parents, teachers, principals, community leaders and law makers, raising the question: "Do you know the weight of your words?" Complete with study guides and follow up material, this is a powerful educational tool delivered in an artistic package.
Listen to songs from The Weight of Words HERE on Soundcloud.
Watch the show (recorded at the Broward Center for the Performing Arts in Fort Lauderdale) HERE. Please note that the script for licensing has been slightly edited from this version.
Minimum size of cast: 14
Maximum size of cast: 35
Male: 8 to 15
Female: 2 to 10
Male or Female: 4-10
Length: One Act Play With Music (35-40 mins.)
______________________
FALLEN: One Hell of a Musical On the verge of a mental breakdown from stress, the Devil has had it with the inhabitants of hell and up and quits his eternal post.  After mass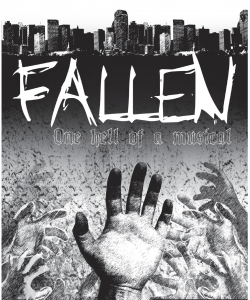 hysteria, the citizens there decide to do the only thing they can do: hold and election for a new devil. Who will be the next Devil? What is the sum of all your fears? How would you feel if you suddenly found yourself down below? What would happen if hell literally froze over? Find out in this sidesplitting, humorous tale of Hell turned upside down.
Minimum size of cast: 13
Maximum size of cast: 25
Male: 3
Female: 8
Male or Female: 2
Length: Full-length Musical In Two Acts
______________________
THE REBELLION: A Musical for Agents of Change What if each and every one of us took it upon ourselves to change the world for good? A group of high school students decide to find out when they form a club that does just that. They take on global issues until a beauty pageant at their school unexpectedly challenges their viewpoints. Is there more power in changing far away places or right here where you live? What happens when good people do something? A rebellion.
Listen to songs from The Rebellion HERE on Soundcloud.
Minimum size of cast: 11
Maximum size of cast: 25
Male: 3
Female: 8
Length: One Act Musical (35-40 mins.)
______________________