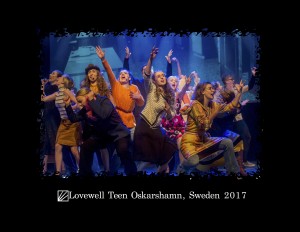 If you are considering joining us in Oskarshamn this summer, watch this short video for inspiration!
APPLY NOW FOR LOVEWELL SWEDEN (Non Swedish students ONLY).
WHO: Age 15-exiting freshman year of college (and/or 19 years of age)
WHEN: 07/10/2017- 07/30/2017 (with travel dates on either side.)
WHO: Students from around the world join a professional staff from around the world and share their collective stories from all walks of life.  In doing so, one, solid, unified piece of theatre is born.  In order to make this happen, we need creative people of all types.  This experience is about the creative process, and while the performance is an enormous part of our workshop, the focus is on the weeks of creation. The production is always multilingual, but the daily workshop is conducted in English. This cultural exchange is like no other!
WHAT: Collaborate, conceive, write, compose, choreograph, design and perform an original piece of theatre with music while working with fellow students and professional artists from around the world. Up to 10 American students and 2 American staff members will join students from Sweden, Finland and beyond, along with professional Swedish staff to create an International Theatrical Masterpiece! Also, explore Sweden and its culture while submersed in a welcoming, beautiful, quaint Baltic sea-side community.
WHEN: The workshop begins on Monday, July 10th, 2017. The students traveling from the U.S. will be departing on Saturday, July 8th and returning on Tuesday, August 1st, 2017.
STAFF: 2017 staff TBA (View bios and head shots from our 2016 staff artists)
WHERE: We will live and work on the Oskarshamn Folkhögskola Campus. The performance will take place in the center of town at the large Forum Theatre.
PERFORMANCES: July 28th and 29th, 2017 at the Forum Theatre in Oskarshamn, Sweden.
APPLICATION PROCESS: All applicants (including returning students) must pay a $25 application fee. Your application is not complete until the fee has been paid. If you are a new student, you must fill out the essay questions that are on the application. If you are a returning student, you do not have to complete the essay, but you must type 'returning' into each essay field or your application will not process correctly. Your paperwork will not be processed until your application is complete.
COST: $25 application fee + $3,400 for Tuition, Room and Board Package – includes a digital download of the performance, room and board for 22 nights at the Oskarshamn Folkhögskola, 3 meals a day 7 days a week while staying there, train ride to and from Oskarshamn to Stockholm and two night's hotel stay in Stockholm at the end of the process. Plane fare is NOT included in the price and food for the 2 days spent in Stockholm is also not included. Lovewell will reserve flights in May and each student will be responsible for payment and final reservation.
PAYMENT: If you are accepted into the workshop, you will receive a notification and an invoice for the total amount due. There will be payment options available via Paypal that will require you be paid in full by May 1st, 2017. If you have other questions about payment, you might find the information you are looking for HERE.
REFUND POLICY
Cancellations made by March 1st, 2017 are fully refundable minus a 10% administration fee. Cancellations made between March 2nd, 2017 and the date the workshop begins are refundable (minus a 10% administration) only if the space in the workshop can be filled by another full paying student.  Cancellations (for any reason) made after the workshop begins are nonrefundable.
SCHOLARSHIPS: To the extent possible, Lovewell will offer partial scholarships to families with limited financial resources. Each student is eligible for one scholarship per summer. You must first apply to the workshop and be accepted before applying for a scholarship. The scholarship program works on a first come, first serve rolling basis. Please note that for our international programs, scholarship monies can only be applied to the tuition portion of the costs which is $1250 and range from 25%-40%. Our scholarship applications are available HERE.
SOME PREVIOUS LOVEWELL SHOWS WRITTEN IN OSKARSHAMN, SWEDEN: (explore the links below to see photographs and videos.)
To the End
Calling Amelia
Fly, Firefly
The Women of Whitechapel
LOVEWELL SWEDEN IN THE NEWS:
Click HERE to see newspaper coverage of our Oskarshamn, Sweden workshop. The articles are in Swedish, but you will get a great idea of the community support by looking through the pages.
OTHER INFO: For more information about Oskarshamn and our workshop, please explore these links. Some of them are in Swedish, but they have nice pictures!
www.lovewell.se (Lovewell Sweden's website in Swedish and English.)
www.oskarshamnsfolkhogskola.se (The link to the school where we will work on a daily basis.)
www.oskarshamn.se (The little town where we will stay.)
www.forumoskarshamn.com (The Theatre where we perform the show.)
www.thelocal.se (Swedish newspaper in English)
Watch BOUNDLESS: The adventure of Making a Musical (A Lovewell documentary shot at Lovewell Sweden):

APPLY NOW FOR LOVEWELL SWEDEN (Non Swedish students ONLY).