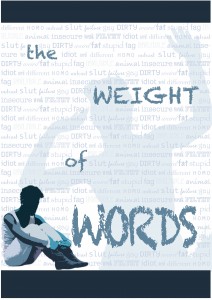 THE WEIGHT OF WORDS (2011)
An original musical to stop bullying
Fort Lauderdale, Florida
In partnership with the Broward Office of Prevention and Nova High School, this production is currently tourning in Broward county and has seen by over 25,000 students.
This show is also available to rent and be performed by schools and organizations around the globe. It comes complete with a script with all music cues, a cd with full music tracks, a score, educational material to be taught in classrooms as well as a talk back prompter script for performers.
The Weight of Words puts a magnifying glass on the topic of bullying and its effects within a home, a school, a community, the United States and in the world. We hear about the issues from every angle- the ones being bullied, the bullies themselves, bystanders, parents, teachers, principals, community leaders and law makers.  "What will you do with the weight of your words?"
Purchase songs from The Weight of Words on iTunes.
Written and composed by the students and staff of the 2011 Nova High Lovewell Project in cooperation with the Broward Office of Prevention.
STUDENTS: Jody-Ann Baker, Angelica Baxter, Cody Brinson, Shanice Brown, Tiffany Brown, Britney Butler, Jasmine Dottin, Diamond Edwards, Jalisa Graham, Jeri-Anne Hinds, Carli Hooper, Sirena Johnson, Ricardo Layseca Carlin, Crystal Medina, Jessica Gross, Becca Montgomery, James Murray, Victoria Parnell, Kyle Peart, Michelle Pinargote, Darrya Priester, Nickeisha Redley, Francesca Rousseau, Giovanni Rubio, Paul Stephenson, Krysta Walsh, Novia Ward, Sierra Ware, Victoria Watson, Abigail Wilson, Uniquekwa Young
STAFF: Carrie Gilchrist (Director), Nils-Petter Ankarblom (Music Director), Marcus Davis (Choreographer), Marjorie Spangler, Nathan Tysen and David Spangler (additional creative staff), Nina Zak (Nova High Theatre Instructor), Teri Williams (Administrator), Cecilia Träff (design)
The Weight of Words Promo video:

Watch a performance of "Save Me" from The Weight of Words as performed at the New Works for the New Year annual concert:

The Weight of Words in the news: