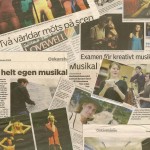 Lovewell Institute makes an annual journey to Oskarshamn Sweden, on the Baltic Sea south east of Stockholm, where the workshop was first introduced by Alf Josefsson, founder of Oskarshamns electric company, Elajo. In 1996, Lovewell gathered students and instructors from the United States and travelled to Oskarshamn to meet students and staff from all over Sweden to embark on a journey of self-discovery and artistic expression. Since then, we have run teen workshops in Oskarshamn and Linköping, Sweden and have recently begun Junior workshops (ages 8-13) in Lomma and Oskarshamn.  Also, our Lovewell Theatre Project has workshopped their original production of Let There Be Balloons in Malmö, Sweden with other professional artists from the area.
In our student workshops, using English as the primary language, this multi-cultural team lives and works together 24 hours a day, 7 days a week. By doing so, students realize and appreciate their similarities and their differences and create, write, choreograph, direct and perform an original multi-lingual piece of theatre with music. By setting a common goal and being fully immersed in the process the students and staff bring to light current issues, commonalities and unique worldviews of the entire group.
This cultural exchange project not only supports our mission statement, it enhances the diversity and scope of our organization, thereby making Lovewell a part of the global arts community. By providing the opportunity for our American students and staff to experience the Lovewell Method alongside students and staff from around the world, the whole group becomes acutely aware of the connectedness of all people; and they bring that knowledge, understanding and compassion back to their respective communities to share with those around them.
Reviewing a Lovewell performance, the Oskarshamn Tiding (local newpaper) said:
The Swedish and American youngsters did a series of fantastic song and dance numbers and tied them all together into an ingenious story.
Dialogue and lyrics, which alternate between Swedish and English are powerful, as is the music. Mighty singing voices are revealed.
The Oskarshamn Nyheter reported:
Before an almost sold-out public, the young people in the musical "Backstage Story" almost brought down the house in Oskarshamn's concert hall. It was a colorful, sparkling and very strong performance.
View more news coverage from our Swedish workshops here.
Watch this short documentary about our International cultural exchange between the United States and Sweden. The students thoughts speak for themselves. Come join us for the collaboration of a life time.


Learn more about Lovewell Sweden at www.lovewell.se